October 19, 2022
Augmented and Mixed Reality in the Manufacturing Sector
Twenty-three million jobs worldwide could be improved by 2030 thanks to the implementation of Augmented and Virtual Reality technologies, according to Statista. This figure demonstrates the potential of these innovations (which together form Mixed Reality) to transform day-to-day manufacturing.
In this article, we show you how augmented reality in particular and mixed reality in general are transforming the manufacturing sector and what the benefits are for companies to adopt their daily use.
Augmented Reality in Manufacturing
What is the Status of Augmented Reality in the Manufacturing Sector?
Before the pandemic began, the consulting firm PwC predicted that augmented reality and virtual reality would impact the economy by 2030 by up to $1.5 trillion. The product design and development, retail (with, for example, the popularization of virtual fitting rooms), and healthcare (training for surgeries or better patient care) sectors would be among the most favored. The development of 5G helps expand these technologies and the business benefits to be more significant.
Augmented Reality in the Manufacturing Industry
The pandemic, however, with remote working and the digitization of many processes, has transformed the ways of working in factories and construction sites, and the impact is even more significant. Augmented reality is changing the industry and poses new scenarios to design better services or improve relationships with customers and workers.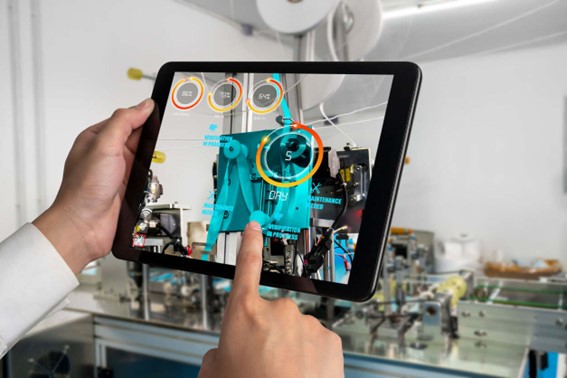 In this sense, digital twins offer an augmented reality experience that improves the quality of final products light years ahead of a few decades ago. Thanks to them, it is possible, for example, to design more resistant or sustainable buildings, analyze the effect that certain materials would have on their facade or walls, or check how an earthquake would affect them if it were to occur.
This model of digital twins can also be used for prototyping objects to check whether they work or if there are failures in the development.
In both cases, they help to reduce the costs and risks associated with product development. It may even be possible to complete projects more quickly.
In addition to digital twins, there are other industrial augmented reality applications. Any industry can adapt it to its needs or business model.
From leisure and entertainment to product demonstrations, the conjunction of interactive and 3D elements serves to surprise with presentations or experiences.
Remote collaboration. When a machine needs to be fixed in a factory or construction site, and the specialists are far away, it is enough to project a camera and apply augmented reality elements in the manufacturing industry to explain how to fix the defect or where a specific part should go. This also favors teleworking in many companies, with the consequent personal benefits for employees: more rest time and better reconciliation with personal life…
Employees can learn any utility and application of the factories without the need to be on site.
Mixed Reality in Manufacturing
Mixed reality is the union of augmented reality and virtual reality. Digital recreations are combined with the natural world and 'projected' before the eyes of stakeholders with devices such as Hololens glasses. There is the possibility of interacting with virtual elements integrated into that natural environment.
Mixed reality in manufacturing helps to treat and represent the large amounts of data that companies collect that can help solve a problem or create a product.
Mixed reality applications can create signs or instructions for employees to follow in factories and other workplaces to ensure their safety. For example, if masons wear special glasses, they can detect dangerous places to access on a construction site or be alerted to stop working when the ambient temperature is too high.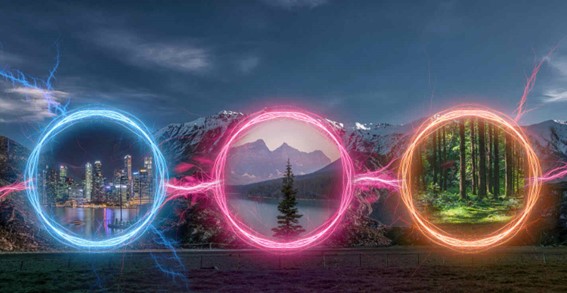 What is the Status of Mixed Reality in the Manufacturing Sector?
Mixed reality has applications very similar to augmented reality. These have become popular after the pandemic to enhance security and remote collaboration.
Thus, mixed reality is currently widely used for:
Implantation in smart glasses and helmets. As we have seen before, they add virtual information about a work or factory area and allow remote access to instructions and legislation on a task (which avoids memorizing complex data) or transmitting images about the place.
Digital twins.
Maintenance tasks.
Again, the expansion of 5G and related technologies, such as artificial intelligence, will make mixed reality more popular in industrial environments. Integration with data collected through IoT or other technologies and machine learning will enhance the value of mixed reality.
Benefits of Augmented Reality and Mixed Reality in Manufacturing
To summarize, these are some of the benefits of augmented reality and mixed reality in manufacturing:
Increased accuracy when manufacturing products.
Production costs and risks are reduced.
Related to this, they improve safety at work and in the final deliverable.
This also improves worker productivity.
Presentation of prototypes in remote work meetings with a quality similar to face-to-face meetings.
Surprise customers and stakeholders with product and service presentations that cause a 'wow effect,' using 3D and special effects.
Evergine in the Manufacturing Sector
Evergine is ideal for the manufacturing sector. This graphics engine for 3D solutions can use data to create holograms in real time. These can be shown to customers, the public, and workers.
Plain Concepts' software imports and exports the models and can be combined with Hololens to expand its capabilities. By using it, companies get the benefits described above.
An example of the use of Evergine in manufacturing: GiSize!
GiSize! is an application of Wonderware to design and develop infrastructure projects that use the Evergine engine to generate a. In this way, with the data collected in buildings and other city structures, it was possible to know the city's needs while 'navigating' it. The data were read in real-time, and users interact in multi-touch environments.
Do you want to know more about how to apply Evergine in manufacturing?
The use of augmented and mixed reality brings significant benefits to the business of many industries. In Evergine, we explain how to take full advantage of it thanks to our engine. Learn more about how to apply augmented and mixed reality in the industry.