October 26, 2022
Virtual and augmented reality in the healthcare sector
Virtual and augmented reality are changing the healthcare sector. As in manufacturing, the pandemic has accelerated the implementation of these technologies. Their particularities make them very suitable for the healthcare area to protect the lives of healthcare workers and patients while the virus is circulating and while it is necessary to continue caring for the sick and training professionals.
The future of virtual and augmented reality in the healthcare sector
According to Verified Market Research, the global virtual and augmented reality market in healthcare is expected to reach $21.26 billion by 2028.
ABI Research has forecast that, by 2024, the healthcare augmented reality market alone would generate $10 billion in revenue, while the virtual reality market would reach $1.2 billion.
The augmented reality and virtual reality analyst at ABI Research, Eleftheria Kouri, believed that including augmented reality elements in telemedicine could give "value and clarity" to users and help in the face of the reduction in face-to-face consultations due to COVID-19.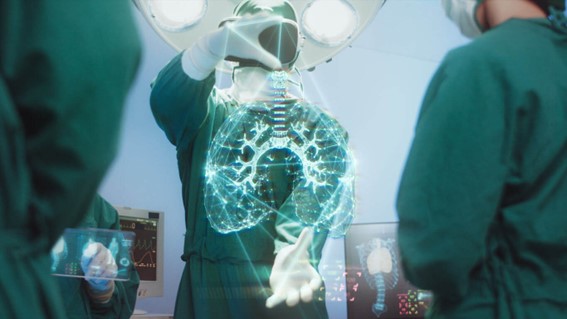 Virtual and augmented reality in medicine
Here are some possible uses of virtual reality software in medicine and augmented reality in healthcare examples:
Remote surgeries. The reduced latency brought by 5G makes it possible to conduct an operation as if the doctor were in the operating room.
Relaxing patients. More examples of virtual reality are used in hospitals. Before, during, or after surgery, this technology can help calm patients. Studies such as those conducted at St George's Hospital in London (UK) demonstrate this. Orthopedic surgery patients under regional anesthesia wore headphones with relaxing images (beaches, waterfalls, forests…) before and during the operation. All participants in the study said that wearing the device improved their experience in the hospital; 80% said they felt less pain and 73% less anxiety. Surgeon Shamim Umarji, who led the study, explained that this eliminates the need for general anesthesia, from which patients take longer to recover.
Treatment of anxiety. Doctors can analyze symptoms and act on them through controlled recreation of anxiety-causing situations (such as traumatic places or memories).
Physical therapy. A rehabilitation exercise in a virtual environment can be more motivating and thus speed up the patient's recovery.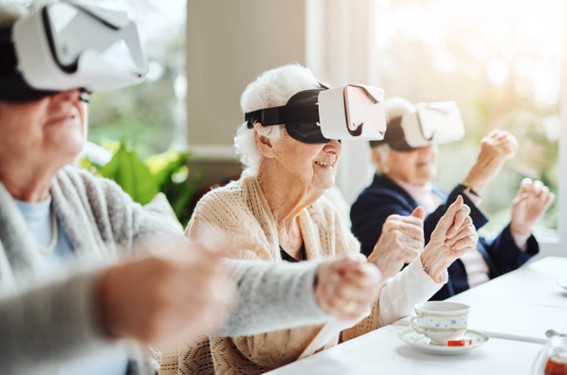 Virtual and augmented reality in medical training
On the other hand, teaching professionals is one field in the health sector that can most benefit from virtual and augmented reality.
Healthcare professionals can learn through interventions on patients recreated in 3D without the need to congregate behind a doctor performing the surgery live in an operating room. According to a study published by Harvard Business Review in 2019, virtual reality tools improved the surgery ratings of participating physicians by 230% versus those using traditional training methods.
Other possibilities that virtual and augmented reality healthcare examples offer students and professionals include the following:
'Walk through a human body' without the need for surgery, including seeing how organs work.
Replicating real cases. A library can be created that collects and reproduces examples for future students or healthcare professionals in other countries.
Helping to feel the diseases of older adults (vision loss, Alzheimer's, deafness…) in one's own skin and empathize with them.
Simulation of medical environments, from a doctor's office to an operating room.
Mixed reality and health: Evergine at Osakidetza
Osakidetza is the public health service of the Basque Country region in Spain and relied on Evergine for a 3D biopsy study and planning project using mixed reality.
In this case, a hologram is generated in real-time and manipulated using HoloLens. During the biopsy, healthcare workers receive much information that helps patients spend less time in the operating room.
Lungs, muscles, bones, viscera, and vascular system are the predefined sections of the system developed with Osakidetza. It also has voice commands to move or rotate the hologram and cut planes or set targets.
The future of healthcare is virtual and augmented reality. And there is no time to lose.
Technological innovations and the post-pandemic world are leading to profound changes in the healthcare sector. At Evergine, we know how to apply these changes to improve the health of citizens and give them a better life. We help you take care of society with our technologies.